VISITOR INFORMATION CENTRE
In 1981, Port Augusta's first tourist information office was established in the small reception area of the previous Homestead Park Pioneer Museum.   In 1988 the Port Augusta Visitor Information office was transferred to Port Augusta's first major tourist attraction, the Wadlata Outback Centre which is now known as  world class tourist facility that is able to provide accurate, unbiased information every time and on time in a happy, friendly welcoming manner.   

From its humble beginnings, to being the winner of six State Tourism Awards, the Port Augusta Visitor Information Centre is now recognised as a leader in the provision of Visitor Information services in South Australia.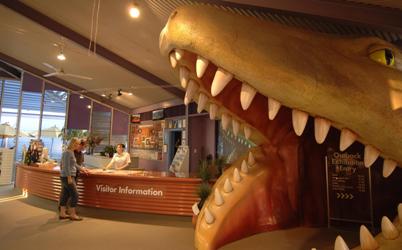 With National Accreditation,  the Wadlata Outback Centre and the Port Augusta Visitor Information Centre is well known to be the first port of call for visitors arriving in Port Augusta.   This popular tourist attraction is a must see and do before starting a Flinders Ranges & Outback of South Australia experience.   
The Region's 1800 633 060 and all email requests are directed to the Wadlata Outback Centre Staff.
Our knowledgeable, friendly, happy staff will provide unbiased, detailed, accurate, up-todate touring information you'll need to make your South Australian Outback experience really special. Detailed maps and books are for sale with copious quantities of free visitor information for our adjoining regions, the rest of South Australia, Northern Territory, Western Australia and general information on Queensland, New South Wales, Victoria & Tasmania is available.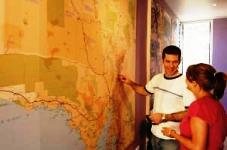 Staff are able to book your local and regional accommodation, Flinders Ranges and Outback four wheel drive tours, including rides on the Pichi Richi Steam Train, Augusta Water Cruises, the Channel and Outback Mail Run, Bike Tours and Flinders Ranges Camel Rides etc.
If you need access to a computer terminal, email, photocoping or would like find out what festival or special event is happening, the Outback Centre is the one stop shop.
Phone 61 8 86419193 (Local) or 1800 633 060 (Regional).