OUTBACK TUCKERBOX -  
where to eat and what to eat?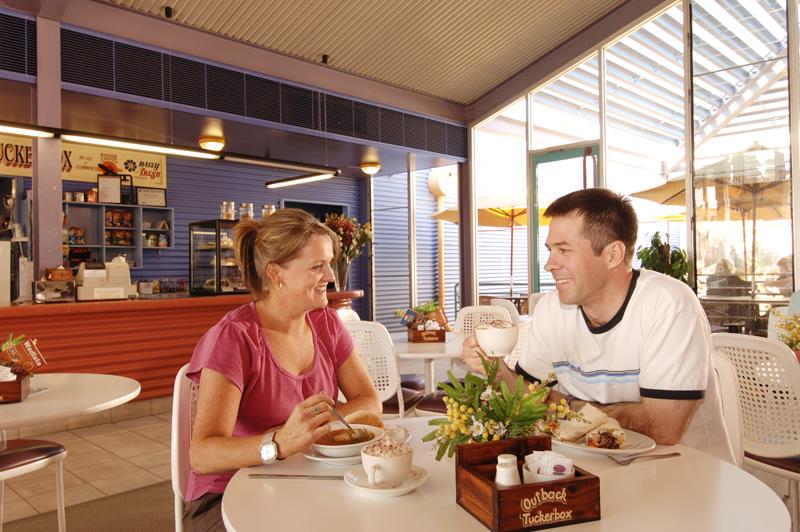 Where to eat and what to eat when visiting Port Augusta is always a popular question. Although just about anywhere in the City is good but the Outback Tuckerbox is affordable, provides fresh, tasty food,  all of which is mostly cooked on-site.

The comprehensive menu caters for all age groups, including those with special food requirements. This includes diabetic, gluten free and vegetarian food lines that are continually being developed.

You can enjoy outside dining by  the Flinders Rock Pool (no smoking) or in a designated smoking to the north. 
The roomy, inside dining area is wheelchair accessable, is family friendly, caters for large and small groups, couples or for those who travel alone.  It is a great place to meet with a local or fellow traveller.   We have quite a few highchairs, small colourful tables and chairs and provide colouring in, puzzle pages and importantly crayons and pencils are provided to keep the children entertained.

Not had a good coffee since leaving home...well this is the place to be. Drop in try our freshly ground expresso coffee, made with full, skinny or soy milk.  Just let our staff know how you like it.   If you really enjoy a pot of tea, we make it with real tea leaves.  
Try the Outback Steak and Bushman's or vegi Burger, Drovers Dog Special, gourmet baguettes, Matilda and Smoked Salmon Salads. The native quandong (wild peach), wattleseed, dried apricot, passionfruit or marsbar cheesecake are delicious as is all the rest.  The girls are making new cakes and slices all the time.  Brandy snaps, filled with real cream, drizzelled with quandong sauce are quite yummy.
THE COACH MARKET IS A SPECIALTY
If you are looking for some-where different to stop a while...the staff of the Outback Tucker box, with over 30 years experience, cater for this special market brilliantly...naturally with prior warning for large groups.  

Quick, friendly service, combined with excellent food, in clean relaxed surroundings and all at affordable prices can't be missed.
Open early for breakfast, by arrangement, for large groups, when visiting the "Tunnel of Time". 

Ask for the Set Menu for lunch, morning, afternoon tea or suggest something special for your group.  
E-mail , phone 61 8 86419193 or fax (08) 8642 4288 for our coach or normal menu or just speak to one of the girls to arrange a special menu just for your group.
The Centre will open out of normal operating hours for large groups.