SHOPPING  & CITY FACILITIES  


Port Augusta is the last major City or town before starting your journey into the Outback of South Australia through to the  Northern Territory, the Flinders Ranges and Western Australia.   

The City, of friendly people offer a huge variety of services and shopping facilities, which you can find in the Port Augusta Now! Visitor Guide, below. 

The services highlighted in bold  have supported tourism by advertising in the Visitor Guide.

Thursday night is late night shopping with many businesses in Commercial Road open later.  A number of supermarkets are open from 6am to 9pm, 7 days per week.  The Wadlata Outback Centre and the Australian Arid Lands Botanic Garden both have a cafe's, with the latter being licensed, are also open 7 days per week.  

For a late, late,  night coffee or snack, the BP Roadhouse and the Port Augusta Truck Stop-Gull are open for 24 hours.  

Additional information relating to Motorhome facilities, larger parking spaces, where to have a shower and availability of larger supplies of water are listed below.
                                         


       C

lick on the Port Augusta Now! image (below)  to access all of the available services.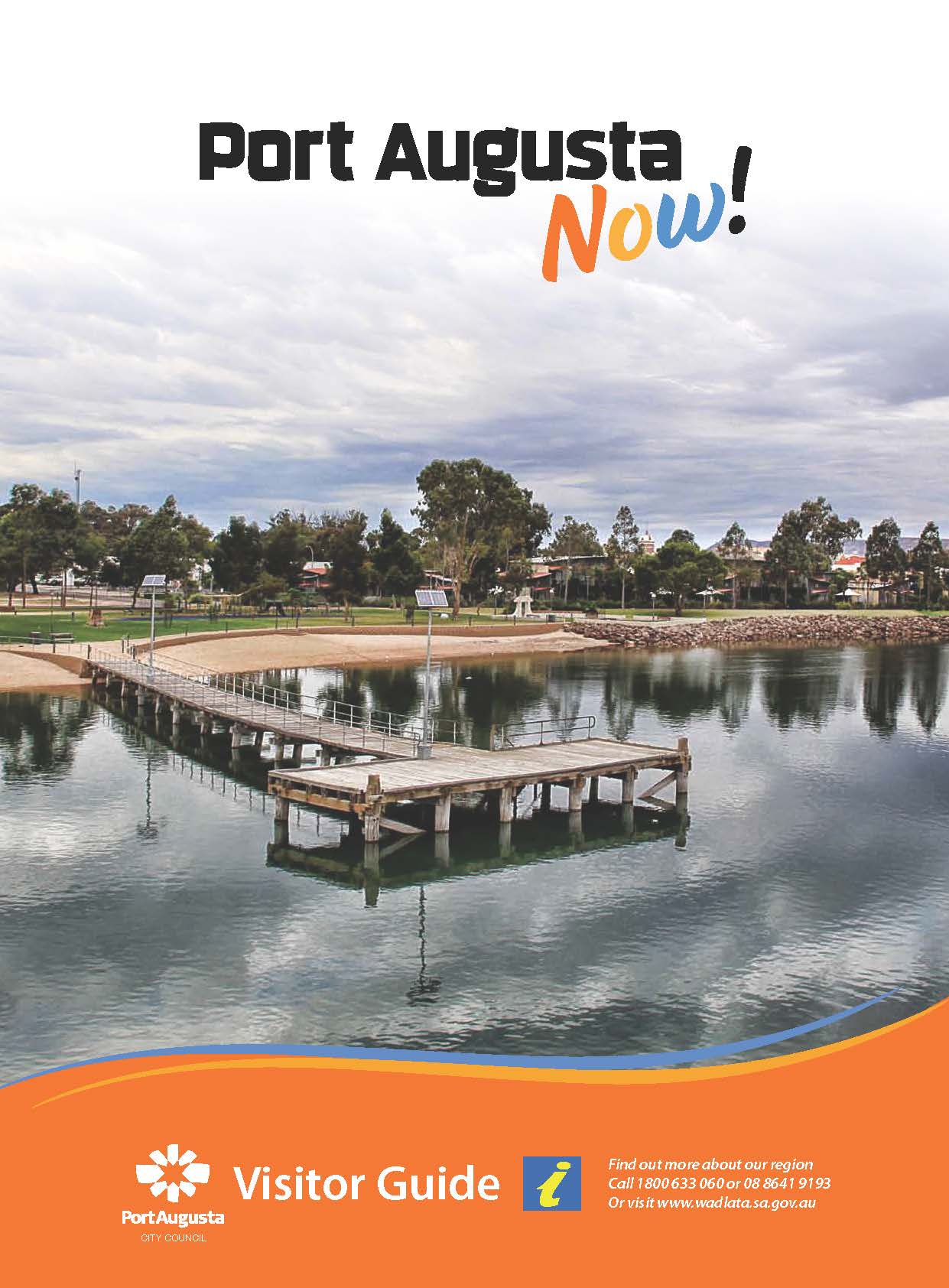 ---
Dump/Sullage Points/RV Services

Big 4 Caravan Park (only if booked in)   (08) 8642 2974
*  33 Stokes Terrace

Port Augusta Motorhome Park   (08) 8642 4122
    You must book in at the Central Augusta Football and Community Sporting Club adjacent to the Park.
    Free if you are paying a fee to stay or a gold coin
    donation if you have not booked in.
*  Old Power Station Road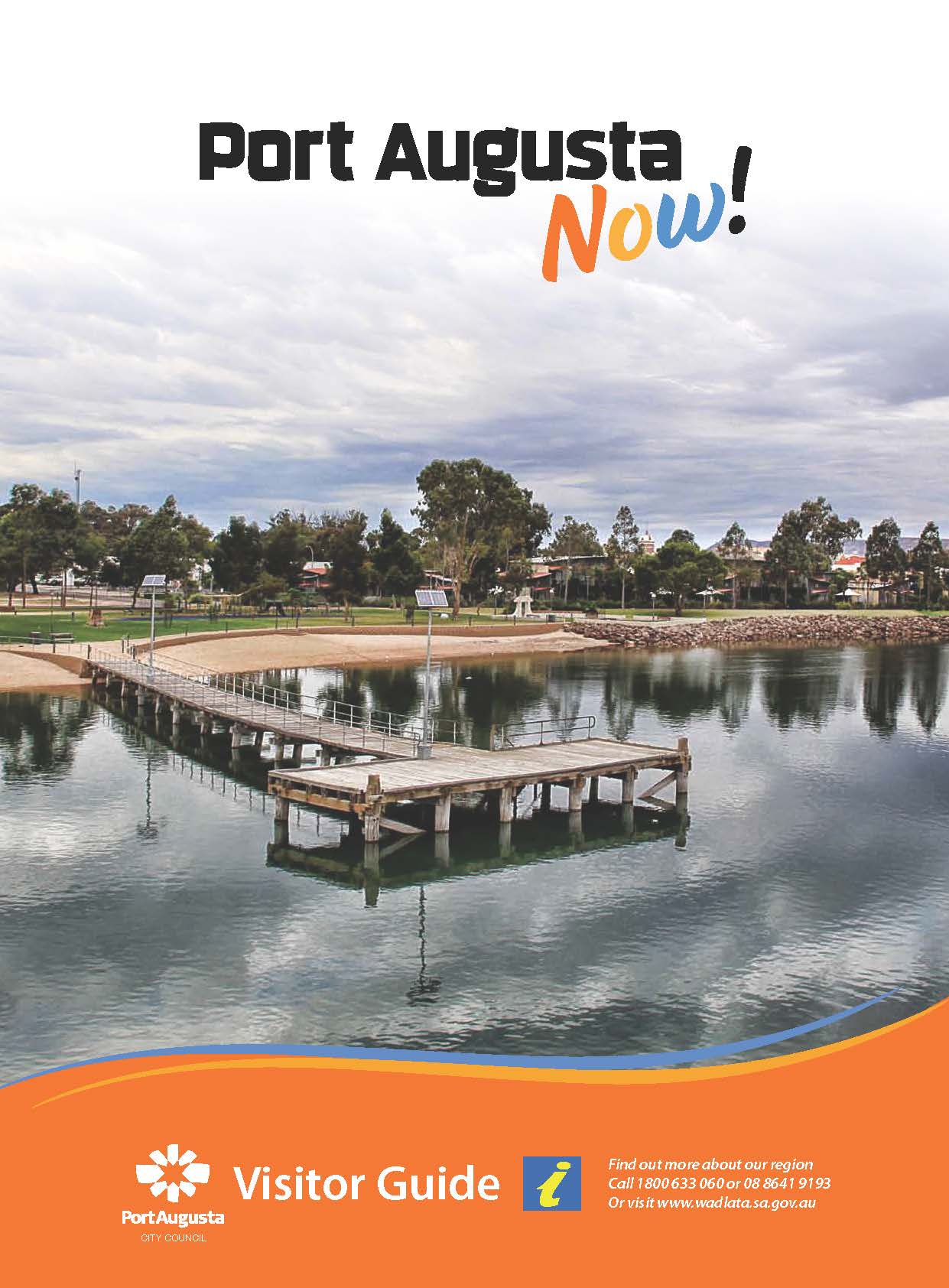 Shoreline Caravan Park (only if booked in)   (08) 8642 2965
*  Gardiner Avenue

 
---
*  Woolworths/Big W Carpark adjacent the Wave Skate Park                            *  Wharflands Plaza - next to the wharf.
*  Wadlata Outback Centre - carpark for patrons

Additional specific carparking facilities are currently being sourced.
 
---
Port Augusta has sought to reduce its reliance on water from the Murray River and re-cycles wastewater.  This provides water to the majority of the City's parks and gardens.
Water from parks and gardens is not suitable for drinking as water is recycled effluent and storm water
If you require drinking water, it is available from retailers outlets. For smaller personal usage you could fill up your water bottle at the Drinking Fountain in Gladstone Square in the CBD.
You CAN obtain water for your caravan/camper or mobile home if you purchase fuel from the following Service Stations: Conditions may apply so please enquire:
---
Coles Express - Shell Meteor    (08) 8642 6488
*   Augusta Highway -  south of Port Augusta               
 
Caltex Service Station  (08) 8641 0069
*   63 Victorial Parade                                                                      
Port Augusta Motorhome Park      (08) 8642 4122
     Water is free if you have booked in - 
     gold coin donation if you are not staying at the 
     Motorhome Park.
*   Old Power Station Road
              
Port Augusta Truck Stop - Gull    (08) 8641 0700 
*   Augusta Highway



 
Woolworths Petrol Plus    (08) 8641 2175
*   Tassie Street 

Mogas Transcontinental      (08) 8642 2906
     $1 per 20 ltrs 
*    4 Eyre Highway
---
Please Note:  BP Travel Stop and Coles Express - Port Augusta West will NOT allow you to fill your camper/caravan or mobile home with                                   water.

                         If you stay in a caravan/motorhome park you will be able to obtain water and use its sullage points. Conditions may apply
 
Back to top
---
---
BP Travel Stop ($2 Fee)    24hr    (08) 8641 0202                                         *  Augusta Highway

                                                                                      
Port Augusta Truckstop - Gull   (08) 8641 0700                                            
($3 fee or free if purchasing fuel
*  Augusta Highway                                                                                                                                                                   
Shoreline Caravan Park (small fee)  (08) 8642 2965      
*  Gardiner Avenue                                                                                             

Mogas Transcontinenal  (08) 8642 4096                                               
*  ($5 fee) - part proceeds to the RFDS
 
Coles Express - Shell Meteor    (08) 8642 6488
*  Augusta Highway  -  ($4 Fee)
 
 
---
If you need any additional information contact the Wadlata Outback Centre on 08 8641 9193 or email wadlata@portaugusta.sa.gov.au